Hello readers and welcome to my first makeup-related post! A little bit of background before I start – I started wearing makeup properly when I was 18, got my brows waxed for the first time at 20, started winging my eyeliner perfectly at 21 and wore eyeshadow religiously at 23, so it's safe to say I was quite a late bloomer to the beauty world.
My skin type is oily/combination, I am acne prone and have tons of scarring from it, my skin is textured and my pores are pretty big, so not perfect skin at all. I would say I am extremely far from having perfect skin, it's one of the things I'm most self conscious about and I rarely leave home without foundation or at least concealer.
For all skincare, beauty and body products, I try as much as possible to keep them cruelty free. PLEASE TRY TO SUPPORT CRUELTY FREE BRANDS AS MUCH AS POSSIBLE! As the months pass and as I buy more makeup, I am trying to get rid of all my non-cruelty free stuff that I've bought or been gifted in the past as much as I can and not buy any more from companies that sell to China or test on animals themselves. I started doing this in 2016 and I'm going to keep going strong.
I do know that sometimes it is unavoidable, my favourite affordable drugstore foundation is the L'Oreal Infallible Freshwear Foundation (gifted) and I can't seem to find a cruelty free replacement that works the same, but I also try not to re-buy unless I definitely cannot find anything else that is suitable for my skin and doesn't break me out.
Without further ado, let's begin! Here are 10 products I'm always using 😊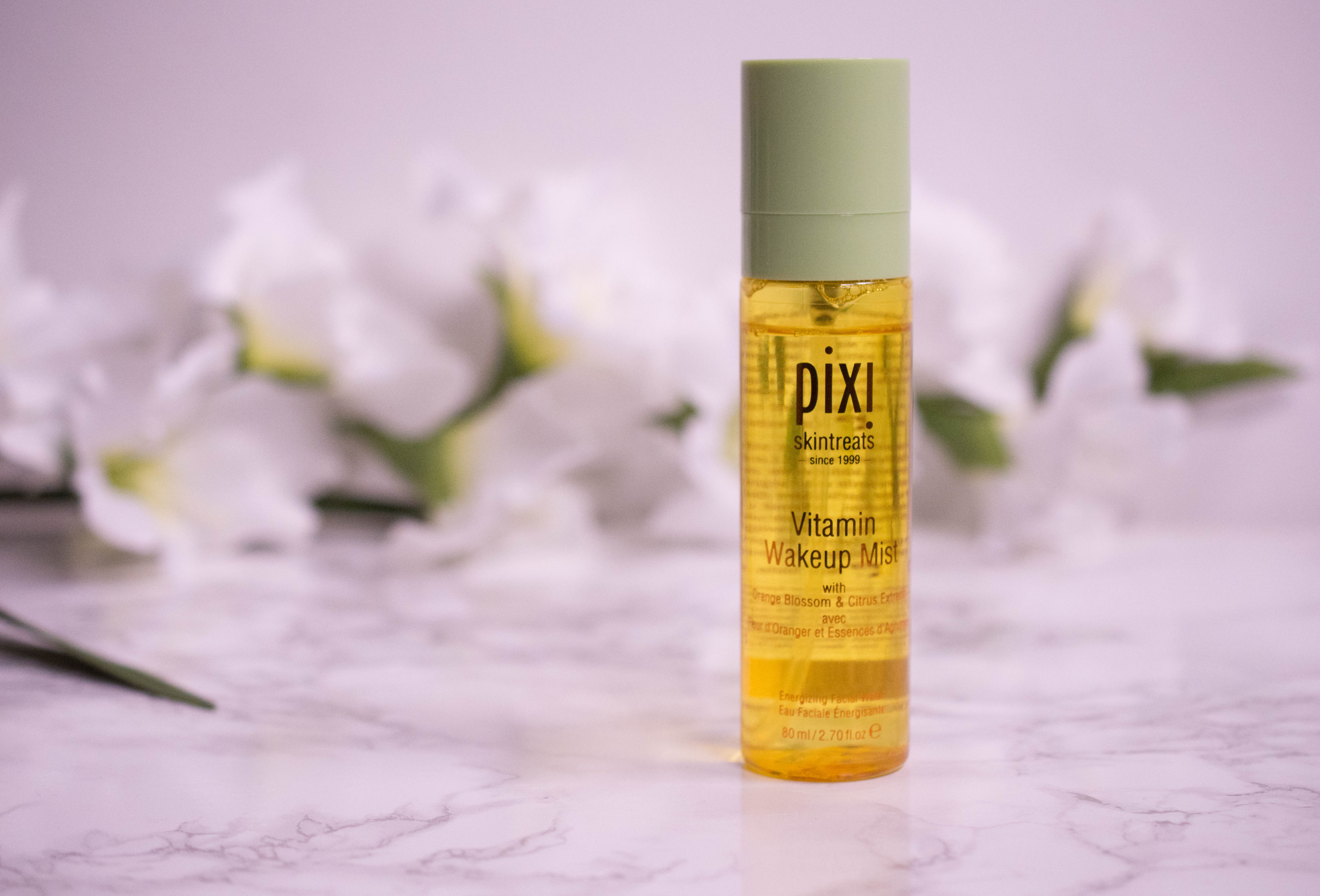 Pixi Skintreats Vitamin Wakeup Mist (Cruelty Free)
I've tried 3 types of Pixi Mists, the Rose Glow Mist, the original Glow Mist and finally the Vitamin Wakeup Mist and I have to say the Vitamin Wakeup Mist is my favourite! The Rose Glow was far too sticky for my already pretty oily skin and I wasn't a big fan of the Glow Mist because of the smell.
The Vitamin Wakeup Mist is named what it is because of it's energizing orange blossom scent as well its citrus fruit extracts that feel almost like a cup of OJ sprayed on your skin. I mainly use it as a toner, the first step when I get out of the shower before my morning skincare routine followed by my makeup as it doesn't leave a sticky layer on your skin. This product costs £16, the higher end of drugstore but it is a great product and one bottle goes a long way.
This product also has no alcohol and parabens – 2 things I've been trying to stay away from!
Essence Lash Princess Mascara (Cruelty Free) 
I CANNOT SAY ENOUGH GREAT THINGS ABOUT THIS MASCARA! Not only does it only cost £3.30, it is by far the best mascara I've ever used in my life! I'M NOT EVEN KIDDING. I have recommended this product to over a hundred makeup-wearing friends, I think. It elongates your lashes and gives them crazy volume without being clumpy. The wand is also very easy to use and the packaging is so cute! ALL FOR £3.30!
Sorry for shouting, I get excited about good products that are affordable. This is a definite 10/10 in the drugstore and you should buy at least 2 if you ever see them available as they sell out very very quickly.
This product contains no parabens! 
Barry M's Baked Tri-Blend Highlighter in Bronze Deco (Cruelty Free)
I was wandering around a Superdrug in Lowestoft when I came across this beautiful highlighter – only for £6! Bronze Deco is a gorgeous shade and the shimmer is not chunky which I like, and the glow looks great on all skin as you can mix the lighter gold and bronze colour together to get your perfect match.
This product is also vegan and has no parabens in it!
Innisfree Smart Drawing Blusher (Cruelty Free) 
I was never a fan of blusher my entire makeup-wearing life, not until I found this product. I'd seen many reviews on Reddit about how this was the most natural, blendable liquid blusher ever and I just had to try it out and I'm never turning back. I bought both shades #2 Cherry Pink and #3 Peach Coral to try and I love them both, Cherry Pink is obviously a bit more to the cool side whereas Peach Coral was warmer which I felt suited my skin tone more but it was more subtle too.
You can use this two ways – use the brush directly on your face like a paintbrush to a canvas and then use your fingers or stippling brush to blend, or you could do what I do which is pump the product out of the brush onto your fingertip and gently pat it in. I feel it's slightly more hygienic because the brush hairs don't go all over my face, as well as because this product cannot be washed – it would destroy the entire thing!
Innisfree products are 70% natural. It is also free of parabens, animal ingredients, synthetic colors, mineral oils and fragrance. 
Primark's Peach Dreams Eyeshadow Palette (Cruelty Free) 
I'd never bought a Primark Eyeshadow palette until I saw this little cutie which is only about the size of my palm and it cost me only £3. The colours are very very pigmented and the palette is easy to match. My favourite colours are the bright orange and shimmery gold.
This product is cruelty free but there are parabens in it which is not necessarily a bad thing but some people prefer to stay away from parabens.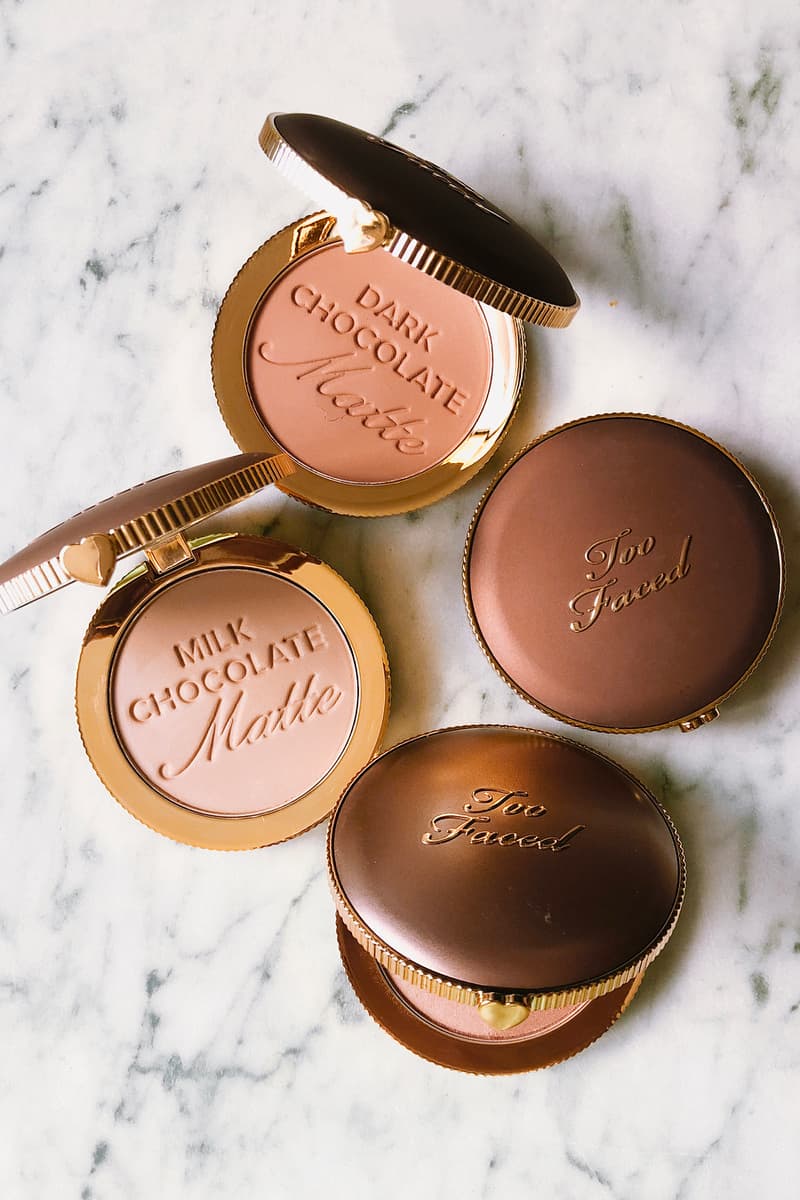 Too Faced Dark Chocolate Soleil Bronzer (Cruelty Free)
Ew, I know I really shouldn't be talking about Too Faced after their whole Nikkitutorial's scandal, but I've had this product with me for almost 2 and a half years now and it's still going strong. I can only see a little of the bottom of the pan which makes it very worth my money as it cost me about £25.
It smells of chocolate which is heavenly and it is also very easy to blend. I don't contour, so this is basically my 'contour'. This product does contain fragrance to get that chocolatey smell, as well as benzyl alcohol – not great for overly sensitive skin.
FYI – A cheaper dupe for this would be the NYX Matte Bronzer in "Medium" which I had and finished using. It's almost half the price but the staying power isn't as good.
Makeup Revolution Reloaded Newtrals 2 Palette (Cruelty Free) 
This palette is so amazing! It has the perfect mix of pinks, oranges and browns that I love as I find warmer tones suit me better. This only costs £4 at Superdrug and it is a great investment – I've had it for almost half a year and I haven't hit pan on any of the colours.
The only downside of this product is that the packaging can be quite flimsy and get scratched up easily, but for £4 and so many good shades I'm not going to complain.
This product contains 2 types of parabens but I don't really mind as much, I mind it more in skin products or liquid products.
Etude House Sunprise Mild Airy Finish SPF 50 (Cruelty Free) 
I was never good at wearing SPF most of my life, mainly because most of the ones I purchased made me feel super greasy and gross. I walked into Etude House one day and the salesperson recommended this for oily skin and it has worked a charm!
I barely feel it on my skin and it smells great. Who doesn't want SPF 50 protection?
This product contains no parabens but does contain alcohol.

Gosh Brow Defining Gel in 003 Grey Brown (Cruelty Free) 
I was never one to use brow gels because I thought they did nothing. I saw this in Superdrug for £4.99 and thought I'd try it out and I love it! It neatens up by brows ever so slightly (my brows aren't that thick anyway) and also don't leave clumps around my brows I've seen happen for other people with other brands. It is also very compact which makes it great for travelling with.
This product contains no fragrance and no parabens.
Last but not least,
Colourpop Brushes (Cruelty Free)
I've used Colourpop products for many years but only this year did I get into buying their brushes. I currently use their Large Powder Brush for my loose powders, their Angled Face Brush for contour/bronzer and their Flat Kabuki Face Brush for liquid foundation. The Flat Kabuki is awesome, the bristles are so dense and it makes everything very blendable.
All Colourpop products from makeup to skincare and of course to their brushes are cruelty free, however some of their products are not vegan and contain parabens.
Thank you for reading my first ever makeup-related post! I hope there are many more to come as I venture into different brands in the future as well as on my trips back to the UK where I plan on getting a couple of small hauls from drugstores.
See all of you soon! ❤️