Hello everyone and I hope you're all doing good!
It has been a while since I wrote a Disney-related post. You can catch up on all my Disneyland Paris adventures here! It was the best 3 days ever and I am so grateful my lovely boyfriend brought me there during Christmas time as it was absolutely beautiful.
I've been missing Disney SO much recently that I've been binge watching Disneyland vlogs on YouTube.
Everyone is aware that the queues at Disneyland can be one of the worst and most miserable parts of visiting the happiest place in the world. The world would be better without queues! From my personal experience, here are some rides worth the 45 minute to 2 hour queue. Disclaimer – I have also included rides in the Walt Disney Studios park in this post! 😊
Some tips – download the Disneyland Paris app on your phones and connect to the Park wifi! This was very very useful for Chris and I as the app tells you how long the queues are at each ride at any time of the day. This is the best way to avoid standing on your feet for ages and also helps you plan your day in the most efficient way possible. The app even has the schedule for parades.
First up (and my personal favourite), Phantom Manor! This was one of the rides I was most excited for from the moment Chris and I stepped into the park. I love spooky, creepy stuff as well as Disney so this was essentially me in a park ride. We were very lucky as there was almost NO QUEUE (we figured that out thanks to the Disneyland Paris app) and we managed to go right in!
I love the aesthetics of Phantom Manor and it is a very exciting experience for anyone who has never been on a 'ride' like it, especially the first bit where the walls go downwards into the floor (it's called the "Stretching Room") and it's almost like you're being transported into another world. You get a whole backstory and everything to set the scene. After that, you move into a separate room where everyone gets into their own little pod. I shared it with Chris and it was perfect as there was one very fun bit where you could see a ghostly figure sat in the middle of you and your friend and it was the most IMMERSIVE part.
I would highly recommend Phantom Manor for anyone of all ages – it's not that scary that you would get nightmares but the animatronics and voiceovers are pretty creepy.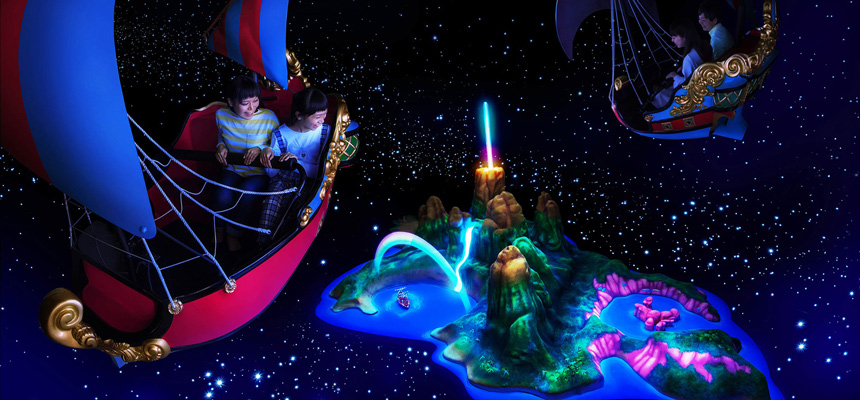 Next up, we have Peter Pan's Flight! I would say this is a very underrated ride as most people have the perception that it is a very 'kiddy' ride but it is, without a doubt, one of the most beautiful rides in Disneyland. You sit with your friends in a little magic galleon that flies above all of London which is where the storyline of Peter Pan is set. The galleon can take up to 4 people.
You get to fly through the Darling family's nursery, over the city and you may even spot some mermaids and pirates. The entire ride is very smooth and you really do feel like you're floating in the air. The galleon is attached to the ceiling to give it a real feel of levitation. Look out for the little, amazing details like looking down on the London city and seeing the cars move, or the cannon ball that is shot 'towards' you. The music really plunges you into the world of Peter Pan and it is a very magical experience. The queues can get pretty lengthy for this ride as it is one of the 'calmer' ones.
The only downside I would say about the ride is that it is too short – I think maybe 3 minutes? I enjoy this too much for it to end that fast!
Now for a more turbulent ride, we have Hyperspace Mountain! Originally known as Space Mountain, the name was changed to Hyperspace Mountain in 2018. This ride is WILD. My legs felt like jelly after and it's not for the faint hearted (or for anyone with back, neck or vertigo issues). There was NO LINE for this ride at all as Chris and I ran over to it right when the parades were ending.
Regardless, this is a very thrilling ride. At some bits I almost felt like I could be thrown off the coaster. It is a very high-speed ride and kind of took my breath away at certain parts! Don't expect amazing visuals as the entire ride is plunged into darkness, but expect lots of cosmic, galactic scenes. It is very beautiful, especially when you notice little specks of stars surrounding you. This ride is not for everyone as it is quite rough but I would highly recommend it for people who love an adrenaline rush!
*This beautiful photo was taken by Jessica – go follow her on Instagram!* 
Let's move along to Walt Disney Studios Park just for this mention – it is just as fun as the main Disneyland Park. This was the ride Chris and I queued for the LONGEST (I think it was 2 hours and my feet were dying), and it is Crush's Coaster!
I was very adamant about trying this ride out as I loved the concept of being in a turtle shell and the fact that you could go backwards on the track. I also love Finding Nemo! We queued in the rain for what seemed like forever and finally got indoors about 1 and a half hours later. This ride really took me by surprise – it was much wilder than I thought it would be! There were some very sharp turns and at some points I felt like I could've flown off! For some reason I was naive enough to think anything Nemo-related would've been tame, I was quite wrong. It was very very fun though! No where near as heart-throbbing as Hyperspace Mountain was, but it still did surprise me a bit.
Last but definitely not least, we have Big Thunder Mountain! Back in the main Disney park!
Once again, Chris and myself being very lucky, managed to get on this ride almost immediately. It is quite a wild, fast ride with lots of fast turns and drops, but nothing that will make your heart feel like it's falling out of your mouth.
I absolutely love the architecture of this ride. It transports you into a railroad mine, the ride is a train cart and the mountains surround you so much you almost forget you're in the same land Disney Princesses are in. Even though this ride can be enjoyed at all times of the day, I would highly recommend you to get on it while the sun is still up as there are many bits where you are outdoors and it makes it much more immersive!
If you've been to Disneyland Paris, or any other Disney park in the world, what are your favourite rides?
What would you queue, maybe, 4 hours for? (Crazy, I know, but I'm not surprised that some rides can go up to 4 hour long queues and people would still stand in line! I know I would for Phantom Manor!)
Till next time, look after yourselves! 💖